Start Making Short Putts
By: Kiran Kanwar
Many golfers find it easy to lag long putts up close to a hole from several feet away, but then frequently miss the small ones - 3 to 4 feet and in. The ball usually goes left or right or past the hole.
Here is an explanation of the problem, a likely cause, a solution, a Minimalist Golf Swing-based rationale for the prescribed solution, and even some drills to help get your putting back on track.

Problem

Missing short putts, either left-right or past the hole.
Probable Cause

A break down (bending) of the wrists through impact.

Solution

Set-up

▪ At address, keep the arms as straight as possible with the shoulders level and completely relaxed.

▪ Think of the arms as "sticks," unable to bend at either the wrists or the elbows.

Swing

▪ Move the "sticks" back, then past the ball, and HOLD the finish for a few seconds.

▪ Swing the arms past your nose, never letting it (or the head) rotate towards the hole.

Test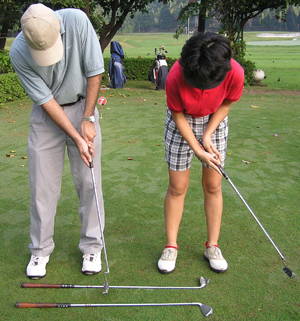 ▪ If the shaft remains vertical, and is not slanting, when in the finish position, it is a sign that the wrists remained straight through impact (see photograph).

Minimalist Golf Swing Rationale

▪ A pool cue must connect a pool ball at its center for a perfectly straight shot.

▪ Similarly, for a basic putt (not factoring in the requirement for maximum-roll minimum-skid over grass) a putter must connect the golf ball as close to it's equator as possible.

▪ When the wrists break down, the putter makes off-center contact with the ball leading to directional inconsistencies.

▪ Adding wrists to the stroke also adds to the amount of force put into the shot, resulting in the ball going past the hole.
Drills

1. Interlock fingers and set up as in a putting posture, arms hanging straight down. Move the arms back and forth as in a putting swing, then HOLD the finish position. This drill forces the arms to move, and keeps the wrists straight.

2. Place two clubs on the ground (see photograph) on either side of - and as close to - the clubhead at address as possible. Making short putts within this "track" forces the club to swing back and through in a straight line.
Kiran Kanwar has 20 years experience as a golf instructor. She currently teaches golf in St. Louis, Mo., and in Bombay, India. At the 2008 PGA Merchandise Show Kiran exhibited a research-based golf swing that quickly gave players of any skill level better distance, direction and trajectory. She also has expertise in dramatically and rapidly increasing a golfer's swing-efficiency to preclude swing-related injury. She's a Class A teaching professional with credentials from the LPGA, the PGA (UK), the PGA of India, and the National Golf Academy of India. Among other titles, Kanwar won the Ladies All-India Open Amateur Golf Championship in 1983. A columnist for Golf Digest India, Kiran is the author of an instructional e-book - sold on her website - entitled "DIY (Do-It-Yourself) GOLF." For more information visit www.yourgolfguru.com or email her at [email protected]