Sandy Lane – Just Monkeying Around
By: George Fuller
When the Tom Fazio-designed Green Monkey golf course officially opens at Sandy Lane, hopefully within the next 12 months, the venerable West Indies resort will have come full circle.

Located on the island of Barbados – one of the cleanest, safest islands in the Caribbean –Sandy Lane first opened its doors in 1961. One of the top hotels in the region for many years, by 1998 it had been surpassed by newer resorts offering more modern décor and better amenities. Sandy Lane was still good, but not good enough for its new owners, a consortium of four Irish businessmen, including Dermot Desmond and J.P. McManus. So the new proprietors decided to close the resort and remodel. By the time it reopened on St. Patrick's Day 2001, every building on property had been torn down and rebuilt.
"What you see today is the same footprint as the old resort," says General Manager Colm Hannon. "But virtually everything is brand new." Guestrooms and public areas were made more spacious because, Hannon says, "Space is luxury. People want more space."
Brand new as well are two 18-hole Tom Fazio-designed golf courses – the Country Club and the Green Monkey. Although hotel guests can play both courses now, the highly-anticipated Green Monkey – named after the ubiquitous little primates that wander through the gullies around the golf courses eating mangoes – is not "officially" open quite yet.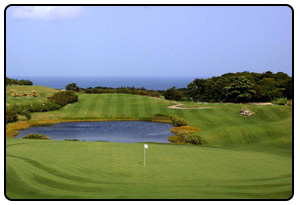 "We're still working on the landscaping," says Mike Davern, general manager of golf. "The owners are avid golfers who want this course to be perfect when it opens."

If it's a work-in-progress, the Green Monkey is pretty darn good today. The primary design feature is an old coral stone quarry, around which almost half the course is built. The balance of the holes roam over exposed tabletop land, formerly used to grow sugar cane. Golfers are treated to captivating ocean views throughout.
Several million dollars have already been spent on landscaping, including the planting of 3,000 sapling trees and transplanting hundreds of mature trees, most of which will bloom with bright flowers. Acres of bougainvillea and other colorful vegetation have also been planted, all in an effort to add verve to the already lovely setting.
Of championship caliber by any standards, Green Monkey measures almost 7,400 yards from the Masters tees. The quarry comes into play beginning on the 8th hole, a par-3 that plays on its upper rim. From the green of No. 8, you can look down into the quarry itself and marvel at what awaits you. Hole. 9, 10, 11, 15, 16 and 17 play into and through this spectacular landscape where 150-foot white walls form the sides and backdrop.
One of the more intimidating holes on the scorecard – the 635-yard, par-5 ninth – plays from a high wall 100 feet down to a fairway, downwind, and 300-plus-yard drives are not uncommon. Two solid shots can get you to the putting surface. This is classic Tom Fazio: Give the player something to conquer, and make it fun to try, gorgeous even if you fail.
The open-to-the-public Country Club design is no slouch, either. Wide open off the tee boxes, this course is a good compliment to the more demanding Green Monkey. Still, if played from the 7,060-yard back tees, a challenge can be had. Ocean views are the norm here too.

Sandy Lane combines the best of many worlds. It prides itself on the highest international service levels, yet the Bajan people are among the friendliest you'll ever meet. It has the architecture of an old plantation mansion – built of crushed coral brick walls – but everything is brand-new. The décor is decidedly European – cool white marble floors, old world draping, dark woods – but rooms are outfitted with all the gadgets that technology currently provides: 40-inch flat screen televisions and control pads in five or six locations that allow you to open or close the drapes, turn on or off the lights, illuminate the "Do Not Disturb" light on the door and so forth.

Rosewood closets, Venezuelan hardwoods and marble floors come standard in the rooms. Raise a yellow flag on the back of your beach chair and someone quickly brings you another Green Monkey, the resort's signature rum concoction invented by Fitzpatrick at the popular Beach Bar. And yes, even out here in the Caribbean Sea, several computers are available in the resort library where you can get online.

If you book the private-entrance, five-bedroom villa ($20,000/night in season; $8,000/night off season), a butler, chef, housekeeping and security staff are included. So, too, is a private swimming pool, a 50-inch plasma screen television and your own Jacuzzi.

If your history is murky, Barbados is one of the islands that Christopher Columbus "discovered" in 1492, although he thought he was off the coast of India, and therefore called them the West Indies. The Portuguese came a bit later and named the island Los Barbados after the prevalent Bearded Fig trees, which are distinguished by dangling, beard-like roots hanging from the tree limbs. In Spanish, Barbados means "bearded."

The British colonized Barbados in 1627, planting tobacco that didn't grow and sugar that did. The 21-mile-long, 14-mile-wide island was a British colony until 1966, when it gained its independence. Still, traces of British influence remain strong. Barbadans speak with a very charming British accent, and the government is based on a parliamentary structure. No wonder the island's biggest tourism client is Britain, which represents 60 percent of the visitors.

Barbados was one of the very few regularly scheduled flights of British Airways supersonic Concorde jet, which flew from London once a week for more than 15 years. (Three hours and 10 minutes if you were wondering, versus eight-plus hours.) One of the retired fleet of seven Concorde jets now has its permanent home at a specially-built museum at the Barbados International Airport.

Europeans know how to vacation. They hang the "Gone Golfin'" sign on the door and head someplace exotic for weeks on end. We Americans, though, tend to zip in and out of places so fast we barely have time to inflate the real estate market. We have even invented words such as "break-ations" to signify that we're too damn busy to take more than a long weekend – at the most!

Don't let that be the case at Sandy Lane. Unpack your suitcase; hotels still have drawers for that. Settle in and stay awhile. Just tell your friends you're monkeying around—they'll be green with envy.

For more information about this exotic golf getaway in Barbados, visit www.sandylane.com or email to [email protected]