Innovative Design in North Dakota Unveiled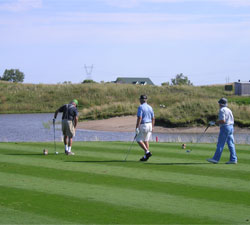 Dignitaries and golfers recently attended the recent grand opening of a Phelps Golf Design project that may become one of the top teaching and practice facilities in the country.

Fargo Mayor Bruce Furness, Parks and Recreation District Director Roger Gress and Phelps' lead architect Kevin Atkinson were among the featured speakers at the Osgood Golf Course (GC) unveiling, which was attended by more than 150 golfers who were treated to free lunch and golf during the September 6th event.

The city hired Phelps to design the unique, 12-hole Osgood Golf Course and practice facility, which includes:

• A nine-hole, links-style layout routed into distinct, three-hole loops that bring golfers back to the clubhouse on every third hole, allowing them to play three-, six- or nine-hole rounds.
• A three-hole practice loop, with two par-3s and a par-4 that replicates 150-yard approaches, tee shots over water, sand shots out of fairway and green-side bunkers, uneven lies and pitch shots. Eight teeing grounds around the practice holes allow golfers to simulate anything from a 60-yard par-3 to a 515-yard par-5.
• A separate practice range with bentgrass target greens and sand bunkers that can also be converted into a six-hole chip-and-putt course.
"Many golfers came up and said how much they enjoyed the facility and what it has to offer," said Atkinson, noting that Osgood GC had a soft opening earlier this summer. "A number of them had played it many times already.
"The idea was to build something that is fun for kids and adults. We wanted to give the park district and head pro Lisa Schwinden the opportunity to be as creative as they wanted to be. If they want to create four three-hole loops, they can do that. If they want two six-hole loops, they can do that. They will come up with their own ideas of what works and does not work. The beauty is that the facility is incredibly flexible and a lot of fun to play. I especially wanted to give juniors the opportunity to goof around and simply make up their own games. That is the type of thing that gets them hooked and keeps them involved in this wonderful game for life."
Fargo Park District Director of Finance and Human Resources Jim Larson said the city has received rave reviews from golfers looking for a challenging round as well as those striving to tune up a particular aspect of their game.
"Golfers love the group lessons we have offered because you can do so much with this facility in terms of course management," he said. "The uniqueness of the course allows for more comprehensive lesson formats."

Larson said Osgood GC has already received far more play than anticipated and attracted golfers of all experience levels. Greens fees for nine holes are $12 weekdays and $14 on weekends.

"People can also pay $5 to just do a three-hole loop," Larson said. "That lets us attract the business person who wants a quick noontime golf fix and then have something to eat at the course restaurant before heading back to the office. We think this helps fill a need for a more efficient game that allows people to play some challenging golf in a quicker fashion so that it fits into their busy schedules."

Headquartered in Evergreen, Colo., with additional offices in Scottsdale, Ariz., Phelps Golf Design is one of the leading course architecture firms in the country. The firm's designs have received numerous honors, including multiple Golf Digest "Best New" award winners, many courses that appear on "places to play" lists and at least one "top ten" course in each of the following states: California, Arizona, Nevada, Idaho, Colorado, North Dakota, Nebraska and Texas. For more information, contact Phelps Golf Design, P.O. Box 3295, Evergreen, CO 80437-3295; telephone 303-670-0478; facsimile 303-670-3518; Email: [email protected]