For Never-Ever Golfers – Invest 36 Hours and Learn to Play Golf
By: Nancy Berkley
I think that many women have avoided golf because they think the learning curve is too steep and takes too long. Well, they are party right and partly wrong. Based on my experience and observations, most women can successfully play a relaxed, casual and non-competitive game of golf if they are willing to invest 36 hours – or the equivalent of one work week – in the learning process. On the other hand, it will take about three seasons (or 12 months of year-round golf) for most women to feel comfortable in competitions and serious tournaments.
This column is for never-ever golfers or those who still consider themselves real beginners. Here's how I recommend you spend your first 36 hours. The time is divided among three general subjects: etiquette, ball-striking on the practice tee, and playing on the course. It's best to rotate, or mix and match, among the three topics. For example, begin with a putting lesson and follow it up with a clinic on golf green etiquette and then reinforce what you've learned with putting drills at home.
How to Hit the Ball — 12 hours

Plan on at least 12 hours of professional, supervised instruction on how to putt, how to chip to the green, how to hit irons and lofted woods on the fairways, a little bit about sand bunkers, and (finally) how to hit off the tee.
All you really need is a putter, a 7-iron, 7-wood and a sand wedge to get started. Consider renting clubs, borrowing women's clubs from a friend or buying an inexpensive starter set. Most instructors start off teaching women how to chip with a 7-iron and you are off to a great start when you can hit the ball 75 yards with your 7-iron. If you are a new golfer and your instructor puts a driver in your hand, change instructors! You do not need golf shoes – sneakers are just fine.
Golf Etiquette — 12 hours

Plan on 12 hours of instruction concerning golf's written and unwritten rules (especially as these apply to women golfers) including golf terminology, etiquette, how to keep score and simple tournament formats. Actually, my favorite first lesson is a ride around the course and an explanation of the "par" concept and the different sets of tees as well as water hazards with yellow and red stakes and sand bunkers. One look at a par-3, par-4 and par-5 out on the course, will put the rest of your instruction in perspective.
The remainder of your 12 hours should be on the golf course as much as possible. Arrange for private or group playing lessons on the course or have your golfing friends take you out for a few holes. (In the beginning, three holes will feel just about right, but try to keep your score.)
One very successful instructor advises women that in the beginning they do not have to count any shot that does not move more than their body length – about five or six feet. So don't count those whiffs or dubs in the beginning. But at the same time, try to get a sense of how to keep score. In fact, keep a scorecard and pencil in your pocket and refer to it. If you have more than 10 strokes on a hole, stop counting and continue playing. But it's also okay just to pick up your ball and watch others play for a few minutes while you regroup mentally. And, it's also okay to tee up your ball on the fairway your first times playing.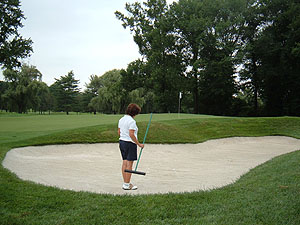 Make sure that your teacher or friends explain proper etiquette on the putting green and in bunkers. Nothing irks a good golfer more than bad etiquette in those two places.

Bunker Etiquette

Walk in and out of a bunker on the "low" side to avoid damaging the grass on the steep sides and top of a bunker. After you hit out of the sand, you (or your caddie) should always rake your footprints and any marks your club made hitting out of the sand. To save time, I often carry a rake into the bunker and lay it down near where I will make my shot. That way, after I hit, I can rake my footprints out of the bunker and exit quickly. (You can't see it, but I have a sand iron in my left hand.) In my opinion, not raking the bunker is like not flushing the toilet.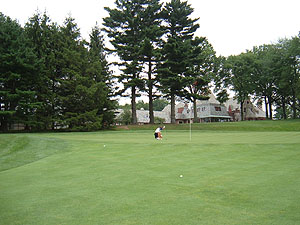 Etiquette on the Greens

Putting green etiquette is very important. The golfer farthest from the flagstick hits first – regardless of whether a ball is on or off the green. The golfer closest to the pin should be prepared to tend the flagstick for the other players. My friend, Shelley had a great shot on to the green. She walked quickly to mark her ball and got ready to tend the flagstick if the players off the green requested it to be tended or removed. (Under the USGA Rules of Golf, if you are on the green and putt into the cup (i.e., "hole-out") with the flagstick still in, it's a penalty. If hitting from off the green, the golfer has the option of keeping the flagstick in the cup or having it tended or removed. In my opinion, in casual non-competitive golf where you are not keeping your score for handicap purposes, it's okay to keep the flagstick in the cup, forgive the flagstick penalty, and speed up play.)

At-home Drills and Reading — 12 hours

Plan on an additional 12 hours practicing golf drills at home and reading about golf. Many drills involve practicing a particular part of the game – like putting, but others help you build up new golf muscles. Rent some golf videos – preferably written for and by women – and read golf magazines. You won't go wrong with the new videos by Debbie Steinbach and start with her "Venus on the Fundaments." Browse the bookshelves for "how-to" books written for women golfers and find one that clicks with you – because of the photos or drawings or the organization of the book itself.

Some Considerations

I can find the 36 hours. How do I get started?

If you've decided you have 36 hours to invest, then the next question is: "Where do I go for lessons?" You have lots of choices.

You can travel to a destination golf school, often located at a vacation spot, and invest the 36 hours in an intensive three-day program or a more relaxed five-day program. But, remember, if you don't play and/or take additional lessons when you get home, you may forget what you've learned in that compacted three days.

Or you can find a local golf instructor. An advantage of a local teacher is that you can space your formal instruction over a month or two and practice between lessons. Since actual golf course experience is so essential, it's ideal if your local teacher provides access to a nearby golf course.

One of the best websites for finding an instructor is sponsored by the National Golf Course Owners Association and is their Get Linked – Play Golf site (http://www.getlinkedplaygolf.com/index.aspx?ID=557) The site has cute logos that show if the course is beginner-friendly and women-friendly. The site allows you to search by your zip code for instructors convenient to your home or office. Another good resource is the LPGA website and their find a teacher tab (http://lpga.nemexinc.com/directory.cfm).

Play in your Comfort Zone

Remember that with only 36 hours of instruction under your belt, your comfort zone will be in relaxed golf. You might want to take "do-overs" or "mulligans," knowing that in a tournament or playing with more serious golfers, you would take your legitimate penalty strokes. If you are playing in the relaxed zone and find yourself in a sand bunker, you can even toss your ball out. If a water hazard looms like the Pacific Ocean, just hit your ball from the other side. Most importantly, pick your ball up on any hole and start fresh on the next hole. The only tournaments you should play are those with a friendly scramble format. (See the previous article for a description of a scramble format.)

If you start your 36-hour lesson program now, you will be ready for some golf this summer – and certainly on your winter vacation.

If you have more questions about beginner lessons, drop me a note at [email protected]

[copyright 2005 Nancy Berkley – used with permission on Cybergolf.com]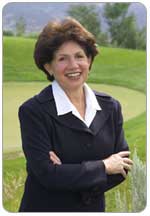 Nancy Berkley is an expert on women's golf. Her book, "Women Welcome Here! A Guide to Growing Women's Golf," published in 2003 by the National Golf Foundation, is the industry reference on how-to attract and retain women golfers. She updates her research and best practices on her website www.nancyberkley.com.

Nancy consults with facilities on how they can increase participation and revenues from women golfers and is a frequent speaker at industry events. Nancy also reviews courses for "The Golf Insider," an international golf and travel newsletter, and "Ladies Golf Journey," a golf publication for women. She's contributed articles to "Golf For Women" magazine and is the author of the 2004 PGA Magazine cover story about women golfers.

A respected resource in the golf industry, Nancy participates in Golf 20/20, the annual strategic invitation-only conference sponsored by the PGA Tour, the PGA, the LPGA, and the World Golf Foundation. At the November 2004 Conference, she moderated the panel discussions on player development with a focus on women golfers. She has addressed the National Golf Course Owner's Association at their National Conference as well as at numerous marketing seminars for the PGA and LPGA professionals. Nancy serves as a consultant to the Golden Links Advisory Board of Corporate Meetings & Incentives, a PRIMEDIA Business Publication. Nancy is an experienced golfer and has competed on the Metropolitan Women's Golf Association (N.J., N.Y., Conn.) interclub matches. She's served on the Board and Golf Committees of her golf clubs in Florida and New Jersey.

In 1998, Nancy founded Berkley Consulting and The Woman's Only Guide® to Golf to share her long-time passion for golf and to help grow the game. Prior to working in the golf industry, Nancy was an attorney for a Wall Street firm and then held a number of senior executive positions with Prudential Financial, including Assistant General Counsel and Vice President of Corporate Marketing & Business Integration. Nancy began her professional career as a high school teacher.

Nancy holds a bachelor's degree in political science from the University of Minnesota; a master's degree in teaching from Harvard University Graduate School of Education; and a law degree from Rutgers University School of Law, where she was a member of the Law Review. She is a graduate of the Program for Management Development at Harvard Business School.

Nancy describes herself as a bogey golfer and plays on her home courses in Florida and New Jersey. To contact her, write, call or email Nancy at: Nancy Berkley, Berkley Consulting, 242 Eagleton Estates Blvd, Palm Beach Gardens, FL 561-776-7243 or at [email protected]