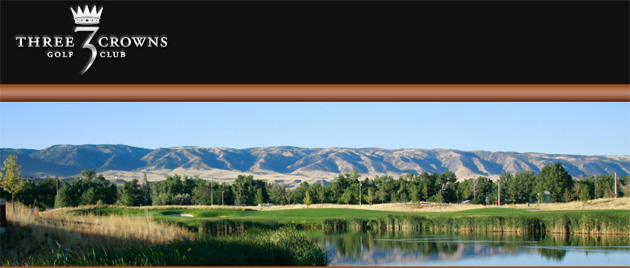 Three Crowns Golf Club
1601 King Boulevard
Casper , WY 82601
(307) 472-7696
http://www.threecrownsgolfc...
Golf Pro
Looking for Partners
Golf Invite
Invite a friend to golf at Three Crowns Golf Club
Photos
Visit web site
Tee Times
Book a Tee Time Today
Three Crowns Golf Club - Course Updates

Three Crowns Golf Club

Mother's Day Brunch at Three Crowns

Sunday, May 12 is Mother's Day and we are currently taking reservations for our delicious Mother's Day Brunch Buffet! Seatings at 10:00 am, 12:00 pm and 2:00 pm. Treat your mom to delectible fare and the best view in town! Call The Grille today at 307.472.7694 for reservations!

Posted 17 days ago

Three Crowns Golf Club

Gold Card Tournament May 19!!

We are filling up for this year's Gold Card Tournament, Sunday May 19th. Shotgun starts at 8:30 am and 2:00 pm, fields limited to 120. Get your Gold Card and sign up now!!

Posted 24 days ago

Three Crowns Golf Club

5 ROUNDS FOR 4

New for Three Crowns... Pre-puchase four rounds of golf and receive a fifth round free. Must be used by June 1st. Call the Shop for details.

Posted 2 months ago
Location
Weather
CBS Video
Cybergolf News
Games

Take the Quiz: Which Pro Golfer Are You?
Trivia
Golf Poll
Is the Tiger - Phil era over?