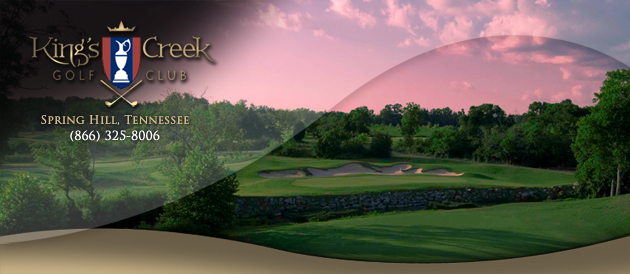 Kings Creek Golf Club
3901 Kedron Road
Spring Hill, TN 37174
(866) 325-8006
http://www.kingscreekgolf.com
Golf Pro
Looking for Partners
Golf Invite
Invite a friend to golf at Kings Creek Golf Club
Photos
Visit web site
Golf Course Specials
Pro V Special!!
Kings Creek Golf Club - Course Updates

Kings Creek Golf Club

Gift Cards

Give the gift of golf by purchasing a gift card by phone at (931) 486-1253, and we mail it to you for free.

Posted over 2 years ago
Location
Weather
Cybergolf News
Games

Take the Quiz: Which Pro Golfer Are You?
Trivia
Golf Poll
Is the Tiger - Phil era over?