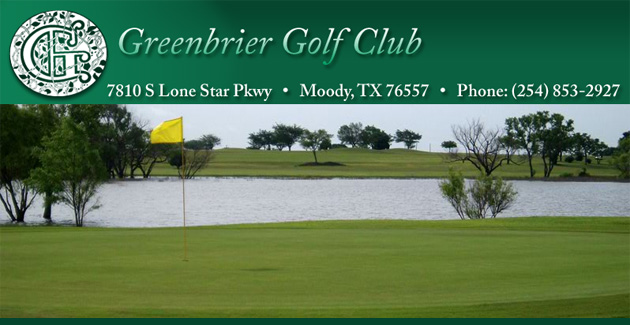 Greenbrier Golf Club
7810 S Lone Star Pkwy
Moody, TX 76557
(254) 853-2927
http://www.greenbriergolfcl...
Golf Pro
Looking for Partners
Golf Invite
Invite a friend to golf at Greenbrier Golf Club
Photos
Visit web site
Greenbrier Golf Club - Course Updates

Greenbrier Golf Club

New Website Launch!

Welcome to our new Website! Please have a look around and let us know what you think!

Posted over 3 years ago
Location
Weather
Cybergolf News
Games

Take the Quiz: Which Pro Golfer Are You?
Trivia
Golf Poll
Is the Tiger - Phil era over?